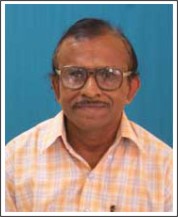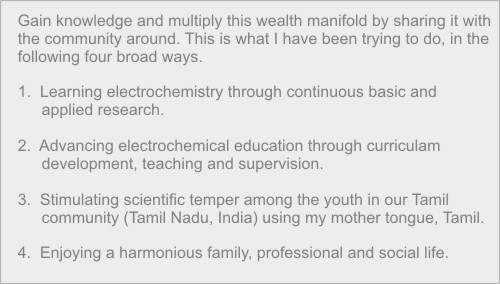 I am now approaching my young sixties. For a brief overview of my lifelong accomplishments kindly visit, "Bio data of Dr. M. NOEL".
I was bestowed with some of the best young and enthusiastic minds to jointly work with me for their Ph.D programmes. Over the years, I enjoyed working with them in quite varied specialisations in electrochemistry. For a broad perspective of my research themes and students, kindly visit "Ph.D Programmes of Dr M. Noel and his students".

My learning process has resulted in consistant publications from 1980 in international journals and conference proceedings. By mid 2009, the publications in international journals covered by science citation index (SCI) is nearing 100. "List of publications in SCI journals along with the citation of each paper is now just a click away.

A complete list of publications covering other papers and seminar proceedings is also available.
A significant contribution was the monograph entitled "Cyclic Voltammetry and the frontiers of electrochemistry" in 1990 by M. Noel and K.I.Vasu. This book is now out of print. However, the book is sought after even today for its unique coverage of electrochemical concepts and the application of cyclic voltammetry in various sub disciplines of electrochemistry.

One of the specialized area that attracted my research interest for a long time now is fluorine electrochemistry. I had the pleasure of working in many projects including some international collaborative programmes. A separate "List of publication in fluorine electrochemistry" is also available for a glance.

I have enjoyed visiting many universities and colleges in India, especially in my state Tamil Nadu and lecturing to a wide canvas of audience ranging from teaching and research faculty to graduate and undergraduate students. Some of the, "Key titles and power point presentations" used by me are also available here.

Inculcating scientific temper among the youth of Tamil Nadu, India is another key area of interest to me. In addition to talking and writing extensively on this theme, I am also editing a Tamil Monthly "Ariga Ariviyal" (let us learn science) from 1991 onwards. I have published around 16 books in Tamil so far. "Tamil books" provides the titles and a brief outline of the themes covered in each book. Bio-data in Tamil provides my efforts in this area.

'My family' is small and wonderful. The beautiful family is behind me in all my creative elforts for over 30 years now.